FATXplorer 3.0 beta 26 – Project Stellar support and more
FATXplorer 3.0 beta 26 is available now and has a few additions worth talking about!
First, Project Stellar formatting support has been added. Project Stellar is a new modchip for the original Xbox – it's loaded with features and now FATXplorer can easily prepare hard-drives for it.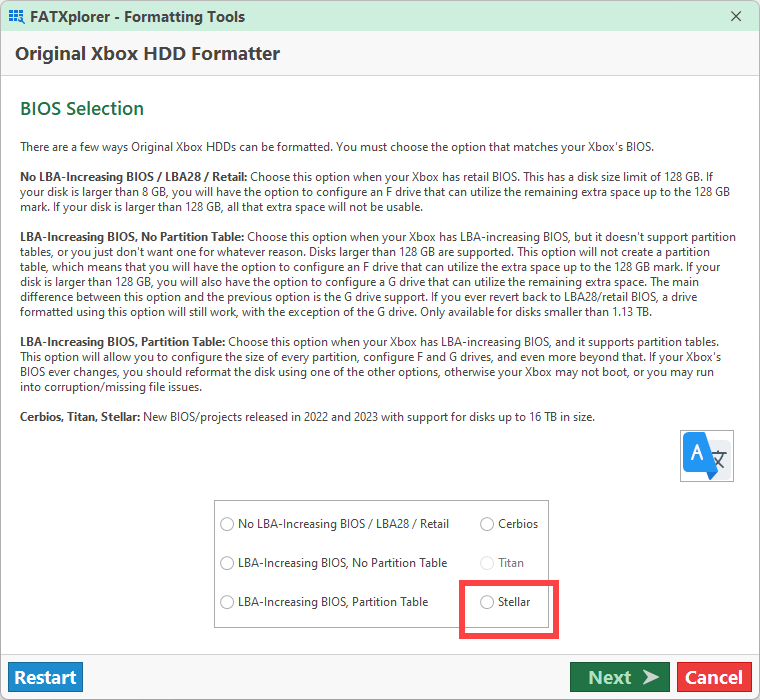 Second, XL HDD patch version 3 is now released. It fixes a JTAG compatibility problem where the console may boot to a black screen. This is the only change. If you weren't running into this problem, there is no need to go through the hassle of reflashing your console. There is no USB patch update either – it did not suffer from the same problem. This new patch update is also available in J-Runner version 3.3.0. Further patch updates can be expected in the future, and a combined patch that allows both XL HDDs and USBs to be used together.
Third, a new tool has been released called XL HDD Fix. As part of XL HDD formatting, an identifier is added to the first sector of the hard-drive that identifies it as an XL HDD. The XL HDD patch updates the kernel to check for this identifier and will trigger an E69 if it's missing. This is to protect the console from corrupting non-XL hard-drives if someone accidentally plugs one in. A few people have run into a problem where this identifier gets overwritten, usually by accidentally initializing the disk in Windows Disk Management, or, in rare cases, by playing certain games on the console (the console case should be mostly addressed in patch version 2.) This tool has been created to quickly help those who have lost their first sector and restore their drive to XL status – without reformatting and losing data.